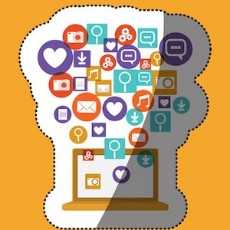 Digital Marketing World
Discuss Digital Marketing tools and techniques and how to rule in the world of SEO, SEM and more!
110 Members
Join this group to post and comment.

How can Blockchain be used in Digital Marketing?
In the current Digital Marketing model,the people are completely under the oversight of the marketer.They have little to no control over their personal data.
The information from the usage habits of online consumers in stored and made available to marketers and business for later use.Imagine the privacy concern of people who have already witnessed widespread misuse of information and other cyber crimes such as data-theft ,identity-theft,cyber-terrorism etc.
The concern that marketers face are equally alarming with prominent heads of companies and high-level businessmen calling out marketing firms fir their widespread misuse of information and inadequate measures taken to protect it in the first place.
With such as escalating concern over digital marketing methods and practices,marketers have started looking for alternatives.

The Blockchain technology could turn this model around, acting as an unnoticed regulator for the digital advertising industry. Currently, digital advertising is based on a model in which a central intermediary in the form of reliable media sites (such as Facebook and Google) facilitates the process of buying and selling advertising. Blockchain has the ability to interrupt this model by allowing advertisers to buy and sell directly to the user. For example, the Brave browser application uses the "Basic Attention Token" (BAT) to allow advertisers to pay people directly to see their ad. The amount paid is calculated by monitoring the "mental effort" of the viewer, creating smarter advertising spend for brands and a better experience for their customers.
Another application that interrupts the landscape of digital advertising is Blockstack, an open source project and Public Benefit Corp (PBC) that allows users to access websites while maintaining their privacy and security. This service is based on blockchain technology, where people have the ability to explicitly grant read/write permissions to their data. The information is encrypted directly on your personal device, eliminating the need for a third party. Blockstack customers can access the content they want, without the worry of receiving unwanted targeted advertising: being able to return it to the consumer.
By eliminating the consumer's identity from the shopping trip, private details are no longer available to digital advertisers looking for potential customers. This means that a source of elusive lead generation can almost dry out. Or that may seem.
Consumers demand control, sellers generate stronger potential customers.
Increasing consumer control does not necessarily mean reducing customers. Rather, consumers will have greater authority to determine when to whom and for how long their information will be available. People can have the ability to buy and sell their own personal information, which gives greater autonomy of information. But the benefits of blockchain are not exclusive to the client. For sellers, the number of potential customers could be lower, but the quality of potential customers will undoubtedly be stronger.
We are already seeing companies that do this, such as Snovio, which is the first lead generation service based on this technology. Snovio allows the customer to sell their personal data by exchanging SNOV tokens. The exchange gives people more control over their data while creating a massive database of up-to-date and quality leads. The database is based on the principles of crowdsourcing data collection, so its growth depends entirely on the users who choose to contribute. By providing financial incentives, people will be more inclined to offer their information. This dynamic will change the standard of digital advertising models, causing a change in the power of the marketer to the consumer.
The way to follow
There are no two ways to do it: blockchain technology is here to stay. Whether or not it will be widely adopted by marketers, it is no longer about if, but when. The infatuation of the market with blockchain means that this process has already begun.
Digital advertisers must keep abreast of the next companies that operate with blockchain technology. While they may seem overwhelming, the early adoption of blockchain will be crucial to the success of any future digital marketing strategy.