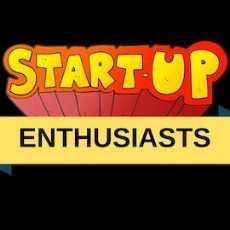 Startup Enthusiasts
Latest updates and question-answers for startup enthusiasts, founders and wannabe entrepreneurs
172 Members
Join this group to post and comment.
How to motivate your self for start-up ?
Everyone know start-up is like the risk of risk..i mean as we have heard many quote when we ask the problem actually we invite the problem by self by misidentified in form of guest gor goodness ...
Liking hitting an axe in your own leg.
How to motivate yourself for taking the risk of everything even when there a lot of chance of getting fight with risk in start-up ?.
As here a lot of start-up enthusiast are present please motivate me or just give me way to motivate my self.

do not worry about the consequences. accept them as a part of your life and. as they say "failures are the stepping stones of success". you have replied on my post saying your startup is at zero. everything in the world starts from zero including you. don't let that number stop you from moving forward. just because you dont want to grow up, you will not stop growing. if that would have happened everyone's wish to be a child again would have been fulfilled. work for your startup as if you have no other means left. do not think about the risks but make sure your decision is wise. treat your startup as your child that is going to die. do your best, grab it out of danger.rise whenever you fall.success will come walking your way. all the best!
The words you used and the way you explain looks cute and a little motivation but what it is to be faced in start-up can't be faced by just a little motivation it needs a strong motivation at time to time to get more n more to step up towards the success. 
Ya I have replied to your post that what I think about startup and I think you also think it's right but every beautiful things contains something difficult like a rose, so soft and beautiful but still hurt while plucking if not handled carefully .
From my own experience, I think startup shouldn't be founded unless you are super motivated to achieve your goals for the business. Otherwise, things go wrong at every step in a startup journey - and unless you are self-motivated; it's difficult to keep going.
99% of the businesses will fail - and it takes lot of guts and encouragement from the startup founders to keep going when the things go wrong. 
Yaaa what you say all about it. It goes right about the startup but still the problem is that hiw we can make our self as you sad super motivated for start-up ?
As start-up is already a risky task.