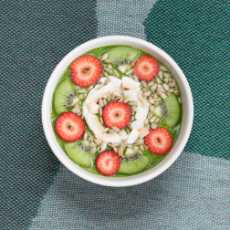 Health and Fitness For You
Health, diet, exercise, weight loss, bodybuilding, gym related tips for all engineers.
74 Members
Join this group to post and comment.
What is the healthy way of weight loss?
I have more work so I can't concentrate more on my diet😞 
Yeah, I'm following TMAD (Two Meals A Day) die and it's working really awesome for me. Will observe for the next 3 months and post my observations.
Can you please suggest this method to me now?

I too have heard a lot about the two meal a day diet plan. I think it's amazing how we never heard of this before.. because we sit all day everyday.. it's not necessary to consume so much FOOD! ALL THE TIME!
Choose any 2 time slots of the day and eat at the same time everyday. Do not eat anything between these 2 meals. You can drink fluids like vegetable juices, coconut water or green tea.
Avoid tea and coffee as it contains milk and sugar in India. 

Problem of obesity and diabetes :
In 1975 India ranked 19th in obesity in the world.
Now we rank 5th in males and 3rd in females which is not good.
And this is major health issue for India.
Why we become obese / overweight?
There are many factors for obesity.   These includes age, sex, genetic factors, lack of physical activity, eating habits and certain medicines.
How to know whether you are obese?
There are many indicators such as body mass index, waist-hip ratio to decide whether a person is overweight or obese.                 
Why we call Dixit diet plan as 'effortless diet plan'?
No restriction on food
No body starvation
No expert guidance require
No need to follow diet food chart
No need to calculate daily calories intake
Insulin secretion
Insulin is a hormone from a gland called pancreas in our body.
Insulin secreted in Two ways
1-baseline secretion
Pancreas secrete 18 to 32 units of insulin throughout the day.
This secretion cannot be stopped as it is essential for survival.
2-food intake secretion
Every time you eat insulin is secreted.
General behavior is 50% come as baseline secretion and 50% from secretion of food.
Whatever you eat, insulin is secreted. It is documented that whether you take less food or more a similar amount of insulin is secreted every time.
Once insulin is secreted, it takes 55 minutes to refill it.
Hence if you eat up to 55 minutes, insulin will be secreted only once.
If you continue eating more than 55 minutes, then for every 55 minutes slot you will secrete insulin.
Thats why this diet plan also know as 2 meal a day diet or dixit diet plan.
is there any natural way to lose weight?
Yes, if you want to lose weight then natural way is to reduce frequency of insulin secretion.
Generally, we feel really hungry only twice in the day.
following are suggestions:
Identify two times when you are really hungry.
As far as possible keep the meal times fixed.
Do not eat anything in between two meals.
Finish your meal in maximum time of 55 minutes.
Reduce sweets from your meals.
Increase proteins in your diet.
Food items allowed in between two meals: 
Water
Thin home-made buttermilk
Tea with 25% milk without sugar
black tea or green tea without sugar
Tender coconut water
Maximum one tomato in a day
Review of diet and Result and effect of Dixit diet 
Weight loss:  
| | | |
| --- | --- | --- |
| 1 Month | 3 Month | 6 Month |
| 1.5 kg | 4.2 Kg | 6.8 kg |
Resource:
Dr Dixit return multiple books for how to do this diet and related science stuff.
Also he educate and increase people awareness toward heathy life style.
Vinasayas Weightloss (Marathi)  (Paperback, Marathi, Dr. Jagannath Dikshit)
Effortless Weight Loss  (Paperback, Dr. Jagannath Dikshit)
Diabetes Reversal Paperback – 2018 by Dr. Jagannath Dixit
Din Aarogayache (Marathi) Paperback – 2015 by Dr. Jagannath Dixit
Effortless Weight Loss and Diabetes Prevention Paperback – 2018 by Dr. Jagannath Dixit