Home

>

Apps

>
Gullu's Kitchen Founder Gulshan Iyer Rejected TCS Offer To Start Quick Service Restaurant
CrazyEngineers exclusive interview with Gulshan Iyer of Gullu's Kitchen as a part of Founders Circuit initiative

CrazyEngineers Staff · 07 Sep 2015
Founders Circuit Team
""The indian mentality of QSR is associated with junk and processed food. It has taken some time and energy to change that mentality.""
- Gulshan Iyer, Gullu's Kitchen
"You won't get a girl to marry because you don't have a secured job" - said his mother when Gulshan announced that he is ditching the TCS job offer to start his own food outlet. Hailing from an orthodox South Indian family, starting his own business wasn't a cakewalk for Gulshan Iyer. Gulshan knew that providing good food to college students was a bigger problem he needed to solve. Today Gulshan and his partner have not only established a successful and profitable business but are also actively helping students turn into entrepreneurs.

Gulshan's journey began with "Melting Point" - an eatery for college students that his college helped him start while he was studying Civil Engineering. In June 2013 Gulshan, along with his friend Venkatesh MA, started a food joint called Gullu's Kitchen - India's first ever quick service restaurant (QSR) for colleges, schools and corporate offices. As of today, they have five outlets across Chennai and Bengaluru and are in process of expanding.

We got in touch with Gulshan to share his exciting startup journey. Check it out -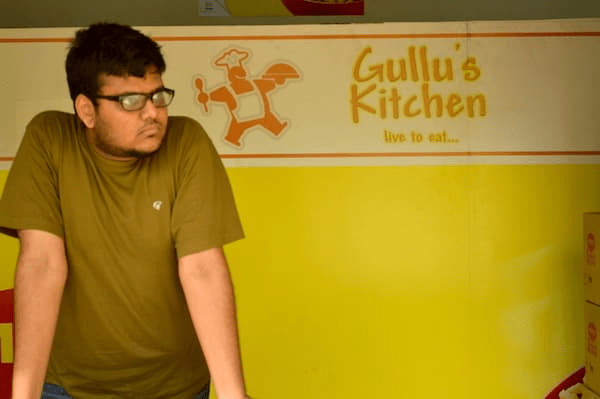 Gulshan Iyer , Co-Founder & CEO -Gullu's Kitchen 
CE: What challenges did you face in early days of Gullu's Kitchen?

Gulshan: Convincing parents that I would skip my offer letters and start my own company was the biggest one. Still is. On the other hand, little know how about the F&B business, funds, taxes, compliances. In short we were bad at every thing. But we knew it and we were ready to learn it from the scratch.
CE: Why did students prefer Gullu's over their own college canteen?
Gulshan: At Gullu's we provide extremely customised and affordable food.
Since we have recently graduated we know their pulse. We know to some extent what would sell and what wouldn't.
All we want is a happy customer after eating. We have food festivals once every 4 months which are basically an eating competition with a twist , fun-full of energy and the best part it is free.
CE: What was the reaction from your family and friends when you rejected TCS offer?
Gulshan: It was a bomb that I dropped on them. Since I hail from a very orthodox South Indian family and anything but engineering and doctor is a crime. It was tough and it is still. My mom still says "You won't get a girl to marry because you don't have a secured job".
CE: How is Gullu's kitchen different from other food outlets?
Gulshan: Indian culture doesn't encourage work while you study. We don't want keep it as just one other business. We are trying to promote entrepreneurship inside the campus. A few selected students become the outlet managers/brand representatives as a part of our Entrepreneurship In College (EIC) Program and they are responsible for the entire business inside the campus.We provide everything else to the student entrepreneurs from the technology to manpower. Thereby students get to experience the real business right when they are studying and have an opportunity to earn a lot more than just pocket money.
CE: You won "National Award for Best Upcoming Startup" by National Entrepreneur Network. Tell us more about it.
Gulshan: TATA NEN First Dot is organised by National Entrepreneurs Network- an initiative by Wadhwani foundation, that moulds students at young ages to become smart entrepreneurs ahead. It happens every year. It's a big stage for every entrepreneur. We won the prize for the best campus startup in the 2011 edition in the Public Choice Segment. It was a great experience. We got covered in business magazines and got personal mentoring from few of the industry's most well known faces. At every point of time whenever we hit a roadblock our chairperson guided us in ways to tackle it and always followed-'go do it yourself' approach.
CE: What measures do you take into consideration when it comes to quality of food? What are the most interesting items on your menu?
Gulshan: Apart from the food safety licenses and other regulatory compliances ,we have a dedicated team that works only on quality control and processes. We are in the process of getting an ISO certificate.
All the products have an emotion attached to it. To mention a few we have an Aloo Bhujia sandwich which comes with a desi touch. Our Gullu's Burger has been a winner along with Hulk-a desi masala healthy drink specially designed for college students. Our finger licking kathi rolls will tempt your taste buds like never before.You should try them.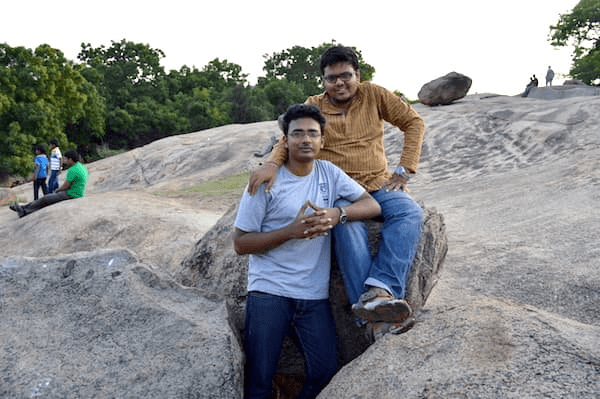 Gulshan and Venkatesh MA , Co-founders, Gullu's Kitchen  
CE: What steps have you taken to lure your costumers in?
Gulshan: Our EIC program has been a major factor.
We have many colleges approaching us to partner with their students and make them entrepreneurs while they study.
Once the outlet is ready most of our business comes over the word of mouth.The word spreads and we are handling thousands of customers daily within a weeks time.
CE: What is the most difficult part about running a QSR (Quick Service Restaurant)? Is your startup profitable?
Gulshan:
The indian mentality of QSR is associated with junk and processed food. It has taken some time and energy to change that mentality.
Apart from it, handling such a robust supply chain, setting up efficient processes, training the staff, hiring smart talent isn't that easy (Oh yea we 're hiring too!).
Yes we are profitable. We break even within 4 months of operation in every outlet.
CE: How do you manage customer complaints ? Do you pursue food/hotel reviews?
Gulshan: We have an effective feedback mechanism. We respect all our feedback and make sure we work on it.Thankfully we haven't had much customer complaints. Though we do invite new ideas for effective implementation,for the few complaints we see, we immediately get to its root cause and solve it. We ensure the customer returns back with a smile.
CE: What are your future plans for Gullu's Kitchen? Any plans for home/campus delivery & expansion in other college campuses?
Gulshan: We are expanding. There is so much happening here.We are inviting students and colleges for our EIC program for which we have received tremendous response.
CE: Would you like to narrate any interesting experience of dealing with customers? 
Gulshan: There are so many that it is difficult to pick one.There was this time when we were about to shut the outlet since it was really late. We suddenly had a group of almost 50 students who were celebrating one's birthday. We decided to open the outlet only for them and ran it for next 2 hours only for them.
CE: Any message for young engineers or aspiring entrepreneurs?
Gulshan: Go do it yourself, you will be proud to have learnt it all by yourself.