CrazyEngineers V4: Early Access
We are developing the next version of CrazyEngineers. If you wish to receive latest updates and early access, click the link below.
Home

>

Apps

>
CrazyEngineers Global Ranking System Explained
CrazyEngineers global ranking system for engineer establishes a common ground for all engineers to compete against each other - while everyone benefits and wins. Check out the details.
We are excited to announce the launch of CrazyEngineers Global Ranking System (CGRS) for Engineers. With CGRS, we aim to establish a common ground for engineers from different geographies, disciplines and experiences to track their performance and know where they stand in the competition. 
WHAT IS CGRS ANYWAY?
CGRS is a system comprising of 60+(and growing) trackers to track your performance on CrazyEngineers ecosystem. Soon, it will roll out to track your performance on other websites as well. Each tracker will monitor your activity and allot points. The points will determine your overall global rank. Refer to the table below for current CGRS. 
BENEFITS OF CE GLOBAL RANKING SYSTEM:
Employers wil rely on CGRS: 
It's still very hard for engineers to find the right jobs; and employers to find the right talent. CGRS solves this problem for both engineers and employers. In simplest of the words, higher your CGRS, the better are your chances of getting spotted by employers and getting hired. 
We strongly believe that engineering recruitment should go beyond skills and academic performance. On CrazyEngineers, we offer you multiple opportunities to showcase your talent, skills, your social scores, and build your global rank. 
When recruiters search for engineers with specific skill, those with higher global rank will be given priority and recruited first. 
Track your own performance:
Engineers can now track their own performance in the topic / domain of their interest. Look at the trackers below to get an idea about currently supported activities. More activities are being added that help you upgrade your rank.
Build your brand:
The world loves brands. As you build your rank on CrazyEngineers, you build your global brand. Your rank is displayed all over the site along with your name. A higher rank means more connections and acceptance from like-minded engineers from all over the world. 
Make a big positive impact on other's lives:
As you build your rank, you make an impact on other's lives. A simple answer or a question that you share on CrazyEngineers can help others for years to come. We are engineers - and we help each other make a positive difference in the world. 
Trackers and Points
We will soon publish a list of trackers and the points they allot you. In the mean time, take a look at the points you need to have and the associated rank.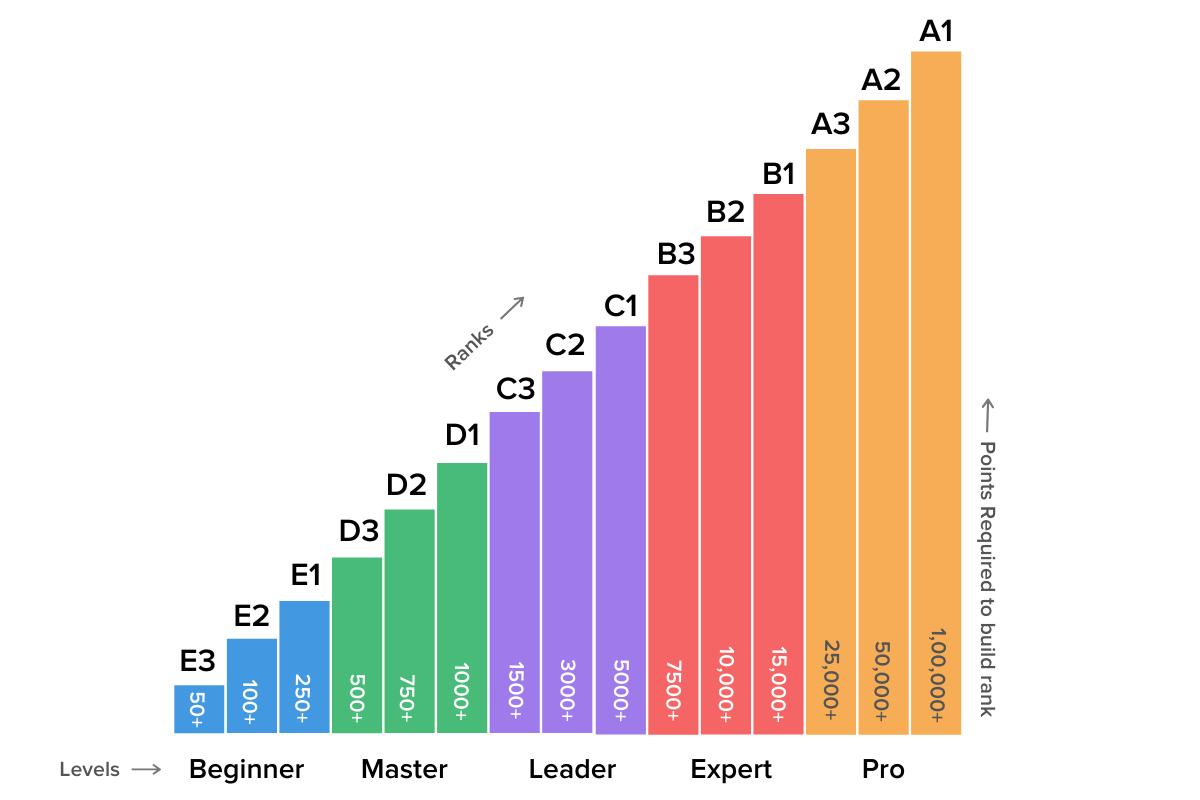 Whenever a new tracker is added, points will be automatically added to your account if you are eligible. If you have any questions, ask them via comments below. 
Comments, Feedback and Questions